The Story of Bond Auto Glass
IN THE BEGINNING
Mikel Slaman was your typical blue-collar American. Mikel went to work every day for a large corporation, paid well below his value, and used day in and day out for all of his talents. A windshield install assigned to Mikel would drastically change his life. Safelite assigned my vehicle windshield repair to Mikel for my Infiniti, which 5 other Safelite employees couldn't fix. Not only did he fix this challenging windshield, but he discovered an opportunity to be his own boss doing what he loves through glass installation.
THE FIXER
Mikel was what Safelite called, "The Fixer" because whenever there was a problem installing Safelite would send him out on the job. The day I met him was one of those exact instances where 5 other technicians couldn't figure out how to solve the air leak coming in along the glass. Mikel told me, "You have to have factory moldings from Infiniti or this will continue to leak."
THE INSTALL
Once the moldings were in, Mikel installed the new factory moldings and we both went for a test drive. After a few minutes, I inquired why it took 5 guys to figure out the problem and Mikel said to me, "It's a lack of training, it's a lack of caring. When you pay technicians peanuts to do a labor-intensive job that requires skill and is one of the most important safety features on a vehicle, they just don't care. They are undertrained, underappreciated, and underpaid. Who honestly would do this job if they didn't care about people?"
BOND AUTO GLASS WAS BORN
Mikel then told me he had done over 1000 windshield replacements the year prior and was paid just under $30,000 for the entire year. I asked him what was stopping him from starting his own business and doing what he loved and he replied, "Safelite! They crush everyone because they are a multi-billion dollar company and you can't compete." Months later Mikel came to me requesting a meeting about possibly opening up an Auto Glass company. The timing was right for both of us and Bond was born.
The name Bond comes in many forms and was chosen for its significance. There are 3 things that make Bond…Bond.
The Bond we have with our customers is the pillar to our success. Bond technicians take the time to educate customers on the work we are performing. Bond sales reps explain why it is important to have a certified technician performing the work on one of your most prized assets.
Anytime a client reaches into their purse or wallet to get their insurance card to call when they have a crack in their glass they believe they are contacting their insured. In reality, it is Safelite representing their insured and processing the claim. Little does the customer know Safelite has a contractual agreement with most large insurance companies and they are required to use Safelite. Safelite's customer service ranks as one of the worst in the industry. In most cases, they used recycled glass to cut their costs and eliminate their competition artificially. Safelite's contract with many major insurers has come into question and is currently being litigated as a potential monopoly.
Our Bond we have with our sales team, technicians, and administration is unlike any other company. Profit sharing, production bonuses, vacations, and some of the things Bond offers to our staff so we can provide a true warm and comfortable atmosphere where people want to wake up and come to work.
Your windshield is one of the most important parts on your vehicle when it comes to safety. Even the type of glue Bond uses is in fact more expensive however it gives us a guaranteed "Bond" between the vehicle and the windshield.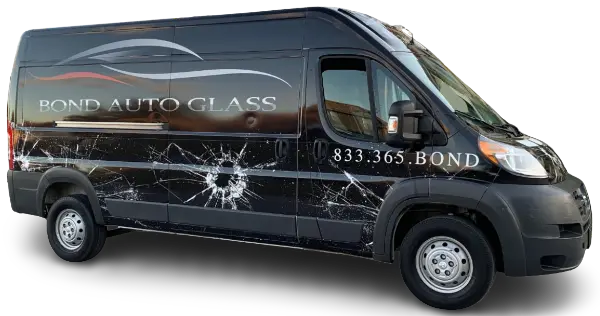 The Story of Bond Auto Glass
Since 2017, Bond has installed over 10,000 windshields for satisfied customers. What started out as a Dream has become a Reality. Since its inception, Mikel has believed in his words, "Driven by a Higher Standard" and this is exactly what Bond continues to practice and preach.